We invite you in a number of ways this month, to remember your loved ones who have died.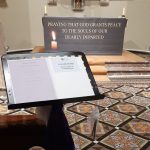 You are welcome to write a short prayer or memory, in the Remembrance Book which is available in each Church during November.
You may also like to include a digital remembrance here too.
Click the cross in the purple circle below to add a thought/prayer/reflection for a loved one.
Share the prayers and let us as a community remember those gone before us.