Many of us like to remember those who have died, by having a Mass said at the time of their anniversary or as a birthday remembrance. How is this organised? Read More
Mass intentions may be arranged for particular dates of importance for a deceased person.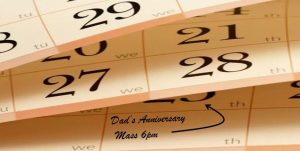 This can be for a
Month's Mind
An Anniversary
Birthday Remembrances
To avoid disappointment, it is advised to organise this in a timely manner. Dates or times may not be available if booking arrangements are left too close to the desired date.  The number of Mass dedications is limited to a few, for each Mass.
A Mass booking may be arranged over the phone or in person at the Pastoral Area Office, in Kilian House Family Centre, beside the Holy Rosary Church, Greystones. A recommended mass offering, known as a stipend, is €10.
It is recommended that mass bookings are made through the Pastoral Area Office.
The Pastoral Area Office is open to the public from 9.30-12.30pm each day. We look forward to helping you as best we can.