GKPA FIRST HOLY COMMUNION FAMILY PREPARATION PROGRAMME
A crucial part of the sacramental journey is placing the Sunday Eucharist in the heart of family preparation.
Are you looking for help in introducing your children or grandchildren to the Catholic Mass?
We know that Eucharist is the most precious gift the Church received from God as it contains the whole spiritual good of the Church (CCC 1324). However, it can take decades of grace and faithful practice to recognise God's reality hidden in this sacrament.
At Sunday Is Everything: Family Mass initiative, we focus on experiencing God's incredibleness in most daily encounters. We learn to celebrate our faith in God by finding love for one another as we gather to worship. We sing, we praise. We go above and beyond to open up the meaning of scripture and look for links between everyday gestures and liturgical symbols so that every family is empowered to host God's promises at home.
We invite everyone willing to gather as the Family of Families!
Where: St. Anthony's Church, Kilcoole
What time: start at 10:00 am
When: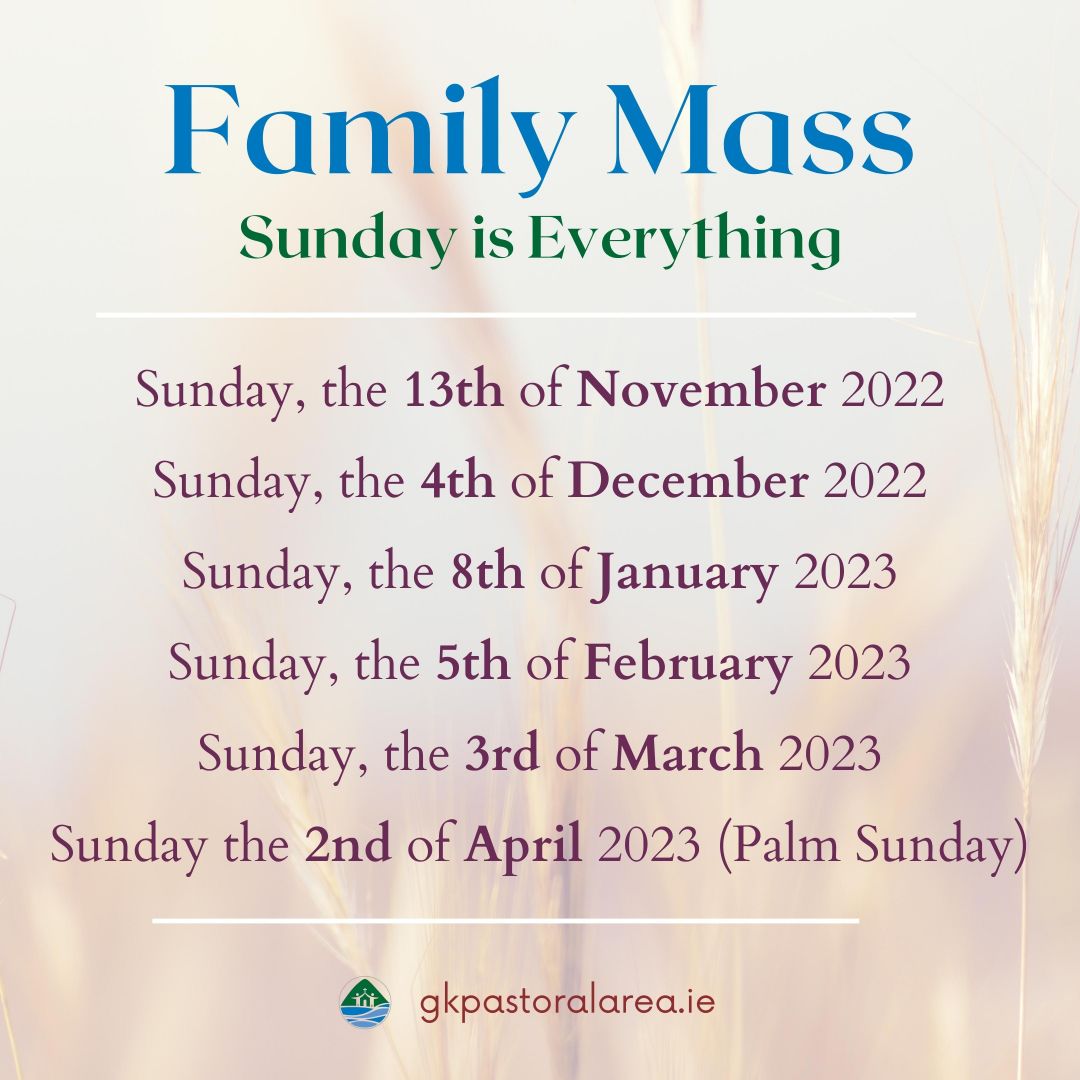 UNDERSTANDING THE SACRAMENT
We gently advise every Family to commit to the "Come to the Table of the Lord" programme provided by iCatholic. In three videos (about 30-35 min each), the programme explains the basics of the sacrament.
FAMILY PRAYER RESOURCES
Catholic Agency for Overseas Development provides great resources stimulating prayer life at home with ideas to suit children of all ages and various themes, including Lent and Easter. Allow yourself to be inspired by their Family prayer ideas including family conversation card questions, Gospel art and craft, or Praying with Creation.
Ministry Spark shares The Head to Toe Prayer and other ideas on how to inspire the prayer life in a family.
---