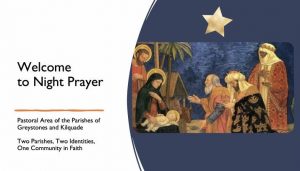 Why not give yourself 20 minutes at the end of the day to be in prayer with your community.
Night prayer is a gathering of people online, to simply reflect and reflect simply on the day gone by.
Night Prayer resumes again following the break.
Interested? Curious? Click here for all the details.
Join or re-join us in prayer – passively or actively – the choice is yours
but the prayer becomes ours… together.
You will be most welcome.