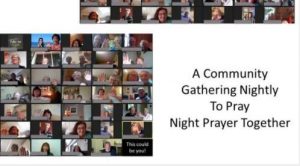 While we are taking a short pause in Greystones, our friends in Waterford from St. Joseph's, St. Benildus and St. Mary's Newtown who joined us for many months for Night Prayer are inviting us to join them for the coming weeks at 8pm on zoom.
Enter the access code: 943 588 4859
We are delighted to be going south and rekindling our connections with Night Prayer friends there. All welcome.