On Tuesday evening, 15th Nov, parishioners from across the Pastoral Area were invited to come along to Kilian House Family Centre to hear about Ministry and what it means to live out our Baptismal calling. In case you missed it: Read More
Ministry – it takes a leap of courage but many are choosing to live out their Baptismal calling. See what happened last Tuesday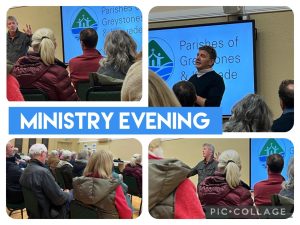 A lovely gathering took place where we met new people and also some familiar faces. A cup of tea or coffee always helps the chatter and there was a great buzz in the hall as people gathered. 
Fr. John was invited to speak about our faith community and the three pillars we are focusing everything on – Hospitality, Prayer and Mission. He explained the meaning behind many of the individual elements in our Pastoral Area Logo, gradually building up to a vision of what and who we aim to be as a faith community.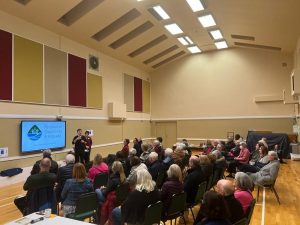 Fr. Gerard followed with an understanding of what it is to be a holy priesthood. At Baptism the priest says the prayer: "As Christ was anointed Priest, Prophet, and King, so may you live always as a member of his body, sharing everlasting life." Baptism makes us members of the Body of Christ. … "to be a holy priesthood" 
The faithful exercise their baptismal priesthood through their participation, each according to his own vocation, in Christ's mission as priest, prophet, and king. We are a priestly community. The lay faithful worship and work alongside the ordained priest(s). Both make offerings to God. This notion is not new.
Elaine then offered some insights as to her calling to and continued involvement in Ministry. Curiosity and needing a connection with people and place led her over 20 years ago to be involved. Observing how her relationship with God has been strong and weak at different stages in life, there was one thing that was constant… and that was ministry.
One thing that sustained her and kept her going, was knowing the nourishment and support needed for her faith journey in life, was going to come from the faith community, her prayer life and her service to and for others. Involvement in Ministry for Elaine, is an expression of her faith in action.
The group then heard about the many ministry opportunities in Administration, Liturgy, Pastoral Care, Outreach and much more which exist right across the Pastoral Area. See below.
Then followed an opportunity to mingle and meet people already in ministry. Chat and laughter filled the hall.
Ministry – it takes a leap of courage; but the persistence of trying, bears fruits that are tenfold for you and for others.
As Baptised, we all have an active part to play in the life and activity of the church community for the sake of its growth and life.
Is it your chance to leap – How about it? There is something for everyone… let us know your here.