We celebrate the Week of Prayer for Christian Unity from 18-25th Jan. The theme is "We saw the star in the East, and we came to worship him (Mt 2:2)"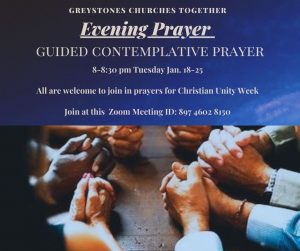 During the week, we are invited to join a guided Contemplative Prayer Evening Prayer online hosted by the Nazarene Community Church. Zoom meeting Code: 897 4602 8150
We are inviting members of other local Christian Churches to join our Night Prayer at 8pm each evening. Zoom meeting Code: 779 326 577.
On Sunday 23rd January, we are hosting leaders from The Nazarene Church and The Presbyterian Church who will preach at the Masses in The Holy Rosary Church.
Further information is available in this Pamphlet.