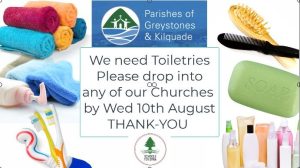 We are very grateful for your response to the Schools for Syria clothing appeal.
This week the team of teenagers packed up almost 200 boxes of clothes and stationery.
There is a still huge need for personal hygiene items such as toothbrushes, toothpaste, hairbrushes, soap, shower gel, shampoo, face cloths and towels.
If you can help with these, please drop them into the collection boxes in the churches by the end date of Wednesday 10th August. Your support in any way is welcome. Thank you.